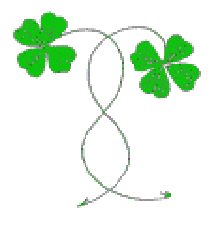 Cloverleaf Connection is an Earth based contact for the Ashtar Command and hundreds of other celestial entities. Their messages have been distributed to humankind in numerous ways. Included in the myriad of subjects that have been received are Earth changes, coming times, personal and Earth healing, psychic development, cosmic masters, meditation, telepathy training, relationship challenges and preparation for ascension. More recently, we call our work "research through channeling". Subjects that have been investigated include ascension, the origin of Star People, twin flames, life after death, and the photon belt/null zone theory.
Ariana Sheran is an inter-dimensional channel of Light, whose pleasure it is to share the love and helpful insights of Ashtar, Sananda, Archangel Lord Michael, and many other beings of Light through booklets, tapes, and printed channelings, published by Cloverleaf Connection.
Our channelings are filtered through the channel's experience, vocabulary and belief system, as well as the other people who were present during the channeling. The result is passed through your understanding and belief system. Remember to use your own discernment and base your acceptance upon what resonates as your truth.
What's Here!
ABOUT US | ASHTAR COMMAND | CHANNELED BOOKLETS

CHANNELED TAPES | SAMPLE CHANNELING

CONTACT US